Basement Window Well Systems
Energy Efficient SunHouse™ Window Wells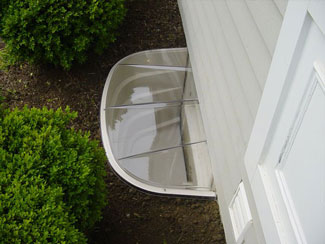 What They Do:
SunHouse™ Window Well Enclosures are covered window wells -- the perfect thing to replace your corroded, debris-filled metal wells.
A clear cover and brightly colored sides and bottom maximize the sunlight directed into your basement for a brighter, more attractive space. Meanwhile, the plastic cover keeps out dirt and debris, while protecting your basement windows from being buffeted by winter wind.
Installation Time:
SunHouse™ Window Well will generally take an installer 1 - 2 hours to install.
Product Dimensions

SunHouse™ Window Wells
Height
Width
Projection
Shallow

16"

40"

19"

Deep

23"

40"

19"

SunHouse™ Window Well Covers
Height
Width
Projection
Flat

2"

40"

19"

Domed

8"

40"

19"
Enjoying SunHouse™ Window Wells
The purpose of basement windows is to add appeal to your space by bringing in natural sunlight. If those windows are rusted, covered in debris, or doing little more than affording a view of an old, rusty window well, then they're not doing their job.
Meanwhile, old window wells often fill with leaves, dirt, and weeds, and they can fill with snow and water, which may leak into your basement.
With a typical basement waterproofing, this water will still leak into your home (we have solutions for this kind of problem).
The answer to these problems is SunHouse™ Window Wells. These dry basement products will not decay when exposed to the elements, and they maximize the beauty of the basement space.
Covered window wells keep cold winter winds from blowing against the panes of your basement window, saving you on your energy bills. It's a small upgrade that can really make a big difference for your home!
Get a FREE Quote!
Schedule A Free Estimate
Call us for a Free Estimate today!
We service Kawartha Lakes, Newmarket, Orangeville, Caledon, Ajax, Whitby, Pickering and many nearby areas in Ontario.
Looking for a price? Get a no cost, no obligation free estimate.