Experienced Basement Waterproofing Contractor Serving Toronto
Basement flooding is a major problem in Toronto, ON. Since the city's sewer system isn't designed to handle heavy rainfall over a short amount of time, surface flooding and basement flooding are all too common. In preparation for the area's frequently severe weather, it's important that Toronto homeowners take action to reduce the risk of basement flooding in their homes. If you have cracks in your foundation or basement walls, a faulty drainage system, or leaky basement windows, it's likely that your basement will suffer from water damage.
That's where we come in! Clarke Basement Systems is a locally owned and operated basement waterproofing company that has been serving the Toronto, ON area for over a decade with high-quality products and trusted service. We specialize in waterproofing basements and crawl spaces, repairing foundations, lifting sinking concrete, concrete crack repair, and concrete sealing in Toronto, ON. Our warrantied solutions are proven to last for the long-term, and we have access to the best basement waterproofing and foundation repair products in the industry.
If you need basement waterproofing, crawl space encapsulation, foundation repair, or concrete repair, contact us today to let our experts evaluate your home and provide a free estimate for the work you need! We proudly serve Toronto, ON, and areas nearby.
Why is Your Basement Wet?
If you have water in your basement, you're probably wondering how it got there and what you can do to prevent future leaks before they happen. Basement flooding occurs most frequently when there is heavy rainfall or melting snow, but there are also many everyday reasons why your basement might flood. Some common causes of basement flooding include:
Crack or leak in your home's foundation or basement walls
Basement floor crack
Leaky basement windows or doors
Poor lot grading and/or drainage
Failure of foundation drains
Sump pump failure
Clogged eaves troughs or downspouts
Sewer backup
Whether your basement floods every time it rains or you have a small basement leak, a wet basement can mean expensive damage and mould problems. If you have a basement water problem, no matter how big or small, Clarke Basement Systems can prevent flooding and leaks with our proven basement waterproofing system. From our patented WaterGuard drainage system and powerful sump pumps to our energy-efficient dehumidifiers, we offer the high-quality products and professional installation you need to keep your basement dry all the time!
A crawl space in Toronto sealed with our CleanSpace crawl space encapsulation system.
Dedicated Crawl Space Encapsulation & Repair Contractor
We are also experienced in dealing with water damage and mould problems in crawl spaces. Our CleanSpace crawl space encapsulation system seals your crawl space to keep out moisture and pests and prevent mould and rotting, making your entire home healthier and more comfortable while reducing energy costs. We also offer sump pumps and dehumidifiers specifically designed for crawl spaces that will keep the area moisture-controlled and watertight.
If you already have a mould problem in your crawl space, it's important to act fast to keep the mould spores from spreading throughout your entire home. Mould can be a persistent problem that's difficult to permanently remove, and can cause health issues such as increased allergy and asthma symptoms. Clarke Basement Systems provides wood damage repair, dry rot damage repair, mould prevention, and more to keep you and your family safe and comfortable with better indoor air quality.
Expert Foundation Repair Services
Foundation problems are common in Toronto because of the frequent occurrence of basement flooding, which can cause foundations to crack. Even if you've never had water in your basement, you can still have foundation issues due to poor compaction, plumbing leaks, or expansive soils which tend to shift when there are changes in soil moisture. When the soil beneath your foundation expands or contracts, foundation settlement and sinking can occur as the soil layers become less stable.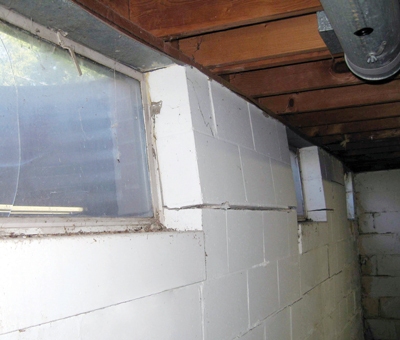 Bowing, cracked basement walls are a common sign of a foundation problem.
Your foundation plays an invaluable role in holding up and supporting the rest of your home, so it's essential to call in a professional foundation repair contractor as soon as you notice any signs of damage to ensure that the structural integrity of your home remains intact. Some common signs of foundation damage to look out for include:
Floor and wall cracks
Bowing basement walls
Windows and doors that stick
Cracks over doorways or around windows in the upper levels of the home
If you think you might have a foundation problem, we have the solutions and experience to effectively repair and stabilize your home. Our patented foundation pier systems can solve many foundation problems such as bowing walls, sagging crawl space, and foundation heave. We value the safety and satisfaction of our customers above all else, and our qualified foundation contractors will design a custom solution to solve your home's specific needs!
Cost-Effective Concrete Repair Services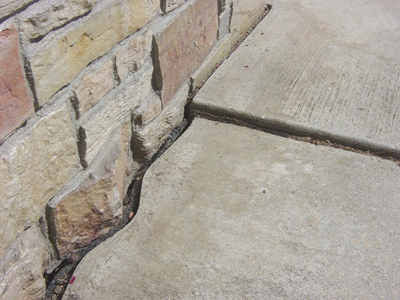 Do you have a walkway outside your home that looks like this? We can raise it with PolyLevel!
If you have a cracked or sinking concrete driveway, sidewalk, patio, steps, or interior slab, our concrete leveling, concrete crack repair, and concrete sealing solutions can help.
With the state-of-the-art PolyLevel concrete lifting system from Clarke Basement Systems, we use an expanding foam which is injected under the damaged concrete to lift and stabilize the slab. PolyLevel is a faster, stronger, more affordable, and less invasive alternative to traditional mud jacking and concrete replacement.
We also use NexusPro to repair concrete cracks and joints. This long-lasting concrete crack repairing sealant can withstand UV rays, extreme weather patterns, fluctuating temperatures, and more to provide a durable solution.
Whether you've just finished your concrete repair project or you have just installed new concrete structures, our tough concrete sealant, SealantPro can extend the life of your slabs by 3 to 5 times overall. In just one application SealantPro effectively guards against oil, gasoline, liquids, and other debris!
If you need basement waterproofing, crawl space repair, foundation repair, or concrete repair services for your Toronto home, call the local experts at Clarke Basement Systems today. We offer free, no-obligation consultations and cost estimates in Toronto, ON, and throughout surrounding areas!