Professional Basement Waterproofing and Sump Pumps in Markham, ON
At Clarke Basement Systems we put customer service first and are proud to serve our area. Our team of trained technicians use only high quality materials from the best manufacturers in the business to ensure that you get only the best results. We want to find the solution that will work best for you!
If you have problems with mold or water damage in your basement, then it's time to get it checked by professionals like the folks at Clarke Basement Systems. Some of the major warning signs of a waterproofing problem are:
Wet or damp basement floor
Leaking or damp basement walls
Pooling or standing water
Crystaline deposit on concrete surfaces
Musty odors
Condensation
Sump pump issues leaky basement windows
Our excellent products like vapor barriers, dehumidifiers, and drainage systems will keep your basement dry and healthy. Need help removing water and keeping the area dry? Then our TripleSafe sump pump is the thing for you! With a primary pump, a secondary pump, and a third, battery operated backup pump, you can always have the peace of mind you deserve knowing that you home is well-protected.
Expert Foundation Repairs and Concrete Repair in Markham, ON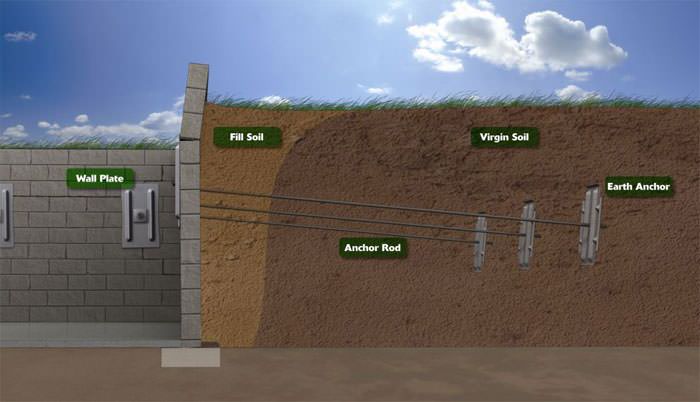 For problems with bowing, leaning walls or sinking, settling foundations, Clarke Basement Systems is your local expert for the job! We offer a variety of excellent products like wall anchors and I-Beam wall braces to correct bowing, leaning walls. Additionally, we offer foundation piers, helical piers, and slab piers to correct your uneven, sloped, or sinking floors. Other signs of a foundation problem are:
Uneven or sloping floors
Cracks in the interior or exterior wall
Sagging floors over a crawl space
Hard to open windows and doors
Tilting chimneys
Street creep
Need a solution to cracked, uneven concrete in your home or on sidewalks or patios? Then look no further than our concrete leveling, concrete crack repair, and concrete sealing services!
With the PolyLevel Concrete Lifting System from Clarke Basement Systems, a polyurethane foam gets injected under the concrete slab which raises it to the appropriate height so that it's even with the rest of the concrete around it, eliminating it as a safety hazard.
In addition, we also provide durable cracked concrete repair with NexusPro. NexusPro is a flexible concrete sealant that repairs concrete cracks and joints. Since NexusPro resists UV rays, temperature fluctuations, extreme weather conditions, and more, your concrete repair will be long-lasting!
After utilizing all of our ultra-durable concrete repair solutions, try SealantPro, a tough concrete sealant that extends the life your slabs by 3 to 5 times overall in just one coat. SealantPro bonds with your slabs on a molecular level to guard against oil, gasoline, liquids, and debris, assuring your concrete and your home looks great for a lifetime!
Dependable Crawl Space and Mold Repairs in Markham, ON
One of the most neglected and unassuming areas of the home is the crawl space. When left unchecked, a crawl space can become a breeding ground for mold, mildew, and even small animals and other pests, not to mention cause other problems for your home like affecting air quality or foundations. By installing vapor barriers, thermal insulation and dehumidifiers, you can turn you dirty, unsafe crawl space into a healthy, energy-efficient space.
Signs of a crawl space problem:
Sagging floors
Condensation
Mold
Wood rot
Foundation cracks
Having problems with musty smells and mold in your basement or crawl space? We have the time-tested products and methods to improve the air quality of your home as well as find solutions for problems such as beams sagging due to wood rot.
Clarke Basement Systems has the tools and expertise to get your project done the right way the first time. Our friendly, knowledgeable staff and expertly trained technicians use only high quality products and are ready to help you find a solution that will work for you and your home. Call us today for a free estimate!