Newmarket, ON Basement Waterproofing & Crawl Space Repair
The surfaces of this dirt crawl space were covered with the CleanSpace Vapor Barrier for superior protection against moisture.
Many homeowners in the town of Newmarket commute into Toronto every day for work. While they're gone, they shouldn't have to worry about water filling their basement; and yet, with the moderate and consistent precipitation Newmarket receives year-round, basement water problems are a distinct possibility. Clarke Basement Systems is the premiere basement waterproofing company serving Newmarket and the rest of Ontario. In business since 2003, we are the area's trusted source for a dry, clean basement.
If you have significant amounts of water leaking through walls, floors, windows, or hatchways in your basement, you know without a doubt that there is a problem. However, there are many other signs of a basement water issue, such as:
Wet or damp basement floor or standing water
Leaking or damp basement walls or windows
Crystalline deposits on concrete surfaces
Musty odors, condensation, and humidity
Sump pump issues
Even if you don't think there's much moisture in your basement, it's best to get rid of it before mould or rot develops. Clarke Basement Systems offers a wide variety of products to ensure the safety and cleanliness of your basement. From sump pumps to drains and dehumidifiers, all of our patented, warrantied basement waterproofing products are designed to get a specific job done.
Along with our basement waterproofing services, we also offer crawl space encapsulation and waterproofing to prevent discomfort and structural decay in this space. The key to a successful crawl space encapsulation is the proper installation of a moisture barrier, which seals the area from the world outside and prevents moisture from entering. This system has additional benefits as well, as it keeps out pests and can protect your home from fluctuating temperatures.
Foundation Repair in Newmarket
Foundation repair is crucial for maintaining the safety and value of a home, and it must be completed by a professional contractor. Clarke Basement Systems has professional foundation specialists trained by Supportworks, the leading network of foundation contractors, ready to solve all of your property's problems. We will thoroughly inspect your property to produce a correct diagnosis of your needs.
There are many things we look for when inspecting a property for foundation disrepair. Some common signs include:
Sagging floors and floor cracks
Wall cracks
Bowing walls
Sticking doors and windows
Tilting chimneys
The way that these signs present themselves often makes the underlying problem very obvious. For example, stair-step cracking along exterior brickwork is usually a sign of foundation settlement, while upward-sloping cracks in the middle of floors can mean foundation heave. No matter what's wrong with your foundation, we have the products needed to restore stability to your home. Foundation piers, wall anchors and braces, and crawl space jacks are just some of the systems we can install on your property.
Concrete Lifting, Concrete Crack Repair, & Concrete Sealing in Newmarket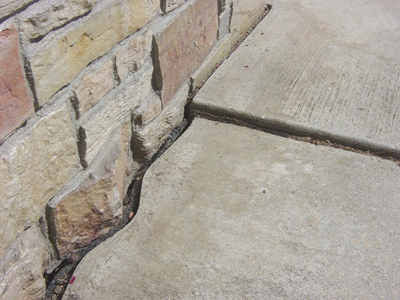 Big cracks in sidewalks like the one shown above are a sign of concrete slab settlement.
If foundation settlement isn't your problem, concrete slab settlement might be. Have you noticed cracks or uneven floors along your driveway, sidewalk, patio, or garage? These are common signs of slab settlement, which detract from the attractiveness of your property and can cause tripping hazards. This is why we offer reliable concrete leveling, concrete crack repair, and concrete sealing solutions to combat these issues and to secure your home's image, safety, and value!
Clarke Basement Systems uses PolyLevel for local concrete lifting needs. This system consists of a polyurethane foam which expands after it is injected beneath the concrete. Just 15 minutes after its installation, the slab will be lifted, level, and ready for normal use!
We also use NexusPro as an effective concrete sealant for concrete cracks and joints. If you have cracked concrete steps, walkways, patios, and more, then NexusPro can effectively seal them while resisting UV rays, fluctuating temperatures, extreme weather patterns and more to assure their safety and image for years to come.
After utilizing our concrete repair solutions, consider sealing your concrete with SealantPro. In just one quick application, SealantPro can extend your concrete's life by 3 to 5 times overall and guard against oil, gasoline, liquids, and other debris.
Clarke Basement Systems offers free estimates for all of our basement, crawl space, foundation, concrete lifting, and concrete repair services. If you're concerned about the state of your home, we will schedule an appointment convenient to you. Contact us today for a free estimate in Newmarket!