Greater Toronto, Ontario Basement Waterproofing & Foundation Repair Experts
Professional Concrete Leveling, Crawl Space Insulation & Sump Pump Installation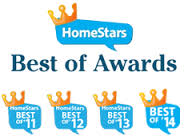 "Their warranty is as solid as their service. No questions asked, they immediately scheduled an appropriate date to re-install a major section of the system along the new wall. Free of charge."
Clarke Basement Systems specializes in repairing wet or leaking basements and crawlspaces.
Along with basement waterproofing, we can help fix cracks, foundations and remove dampness, and help with the prevention of mould and mildew problems.
Our waterproofing professionals service Southern Ontario and the Greater Toronto Area including Toronto, The Beaches, North York, Richmond Hill, Mississauga, Scarborough, Etobicoke, Thornhill, Markham, Vaughan, Concord, and GTA.
In Greater Toronto, Ontario we offer expert services for:
If you have a wet basement or your basement is leaking, please view our basement waterproofing products or our basement waterproofing solutions to find the right service for you.
If you can't find what you're looking for or if you have a basement emergency, please call 1-416-221-9981 or contact us online today!
A Word From One Of Our Satisfied Customers
Toronto - A customer in Toronto had Clarke Basement Systems install an interior drainage system to help with a severe mold situation discovered behind the drywall in her basement. The basement is now 'dry as a bone' and the homeowner has gained additional space for her family that she doesn't have to worry about.
The customer also noticed that the smells from the basement were gone. She had thought a basement just always smells musty and damp, but noticed that the distinctive smell of the lower level had disappeared after our treatment.
Read More Customer Testimonials »


About Our Waterproofing Network
As with any other major home improvement, it's important to know that your crawl space and/or basement contractors are experienced and reputable. As a member of Basement Systems, Inc., an international network of basement and crawl space waterproofing professionals, Clarke Basement Systems has access to award-winning products designed specially for the unique basement environment. These are products designed to help you claim the space under your home and keep it dry all the time!
We are also members of Foundation Supportworks, Inc. - a network of expert foundation repair contractors offering time-tested products and services to help restore the structural integrity of your home or commercial space.
A Written, Transferable Warranty
Your system installation includes a written warranty -- one that's measured in decades, not years!
Should you decide to sell your home in the future, you'll be glad to know that your system's warranty is fully transferable to the next owner of the house. This provides an excellent edge for you when deciding on a closing cost!

Looking for a price? Get a no cost, no obligation free estimate.